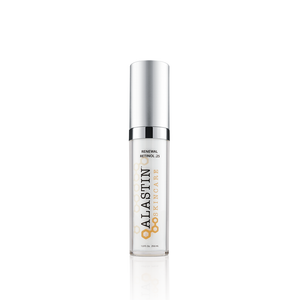 Formulated in both 0.5% and 0.25% concentrations, Alastin's Renewal Retinol will provide you with the anti-aging and rejuvenating benefits of a Retinol while simultaneously hydrating and soothing the skin. 
Alastin's encapsulated formula releases low doses of Retinol throughout the night, working consistently and effectively while minimizing redness and irritation. Using a retinol in your skincare routine will diminish fine lines, wrinkles, minimize the appearance of pores, improve tone and texture, and can even improve the severity of acne. 
Besides Retinol, Renewal Retinol is formulated with the following active ingredients: 
Oat Extract to calm and soothe the skin.
Hydroxymethoxyphenyl Decanone, a potent antioxidant which maintains the skin's hyaluronic acid levels.
Silver Mushroom, scientifically proven to provide hydrating properties more powerful than hyaluronic acid.
Co-enzyme Q-10, an antioxidant that assists to maintain and preserve the effectiveness of Retinol. 
Benefits: 
Diminishes the appearance of fine lines and wrinkles
Reduces pore size and decongestant for clogged pores 
An effective treatment for acne-prone skin
Stimulates collagen production
Features calming ingredients and antioxidants to soothe the skin
Formulated with pure Retinol
How to Use: 
Apply at night time only to clean dry skin, after serums.
Use 1 to 2 times a week until your skin is used to the product. Gradually and slowly increase frequency of use until comfortable to use nightly. 
*Use of this product can cause initial dryness, redness, slight irritation, and potential breakouts in acne-prone skin. This reaction is normal as the product has a tendency to purge and restore the skin after the first application. If you have never used Retinol before, you may start using the 0.25% until you are able to use on the skin daily, and then upgrade to 0.5%. 
Procedure recommendations: 

Rhinoplasty: apply to both nasal and facial skin once the cast is removed, three days a week to start, spacing two nights apart. This will decrease pore size, regulate sebaceous activity, and refine overall appearance of the skin.

Facelift/Necklift/Browlift: apply Renewal Retinol to the face and neck, at 6 weeks postoperatively, three days a week to start, spacing two nights apart gradually increasing usage to every night. Introducing Retinol will enhance the results of your face and necklift by accelerating the creation of new skin cells, softening fine lines and wrinkles. 

Blepharoplasty: apply Renewal Retinol to the face and neck, avoiding the upper and lower eyelids and targeting the product around the orbital bone and crowsfeet to soften fine lines and wrinkles. Begin use 6 weeks postoperatively, three days a week to start, spacing two nights apart gradually increasing usage to every night. 
Laser Treatments: during your skin consultation, we may recommend that you use Renewal Retinol leading up to your treatment, and after your treatment to pre-condition your skin and enhance the regeneration of new skin cells.
Ingredients: 
Water/Aqua/Eau, Caprylic/Capric Triglyceride, Heptyl Undecylenate, Niacinamide, Polyacrylate-13, Glycerin, Retinol, Ubiquinone, Avena Sativa (Oat) Kernel Extract, Hydroxymethoxyphenyl Decanone, Bisabolol, Ceramide-3, Tremella Fuciformis Sporocarp Extract, Betaine, Tocopheryl Acetate, Caprylyl Glycol, C12-15 Alkyl Benzoate, Cetyl Palmitate, Polysorbate 20, Disodium EDTA, Ethylhexylglycerin, Caprylhydroxamic Acid, Trideceth-6 Phosphate, Phenoxyethanol, Polyisobutene, Sodium Hydroxide.
Warning: 
Redness, dryness, or irritation may occur. If so, apply product once or twice a week at night to build tolerance. 
Retinol (Vitamin A) causes photo sensitivity and increases risk of sun damage. It is integral to wear sunscreen, especially while using Retinol. 
Renewal Retinol is paraben free, cruelty free, gluten free, tested and recommended by physicians.