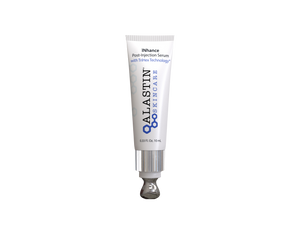 Alastin INhance Post-Injection Serum with TriHex Technology helps to accelerate recovery from post-injection bruising and swelling; patented and specifically designed for use immediately following injectable treatments like dermal fillers.
TREATMENT PAIRING: Fillers | Injectables | RF Microneedling
Size: 0.33 Fl Oz. 10 mL
HOW TO USE
Following injectable treatment, squeeze a small amount of serum on the cooling applicator tip and apply directly on and around the injection area. Repeat this application process 4 times daily, until the tube is empty.
If using other skincare products post-treatment, apply INhance Post-Injection Serum on cleansed skin first, then follow with any additional serums, eye cream, moisturizer and SPF.